Oracle CRM On Demand
Brought to you by the No.1 company in CRM, Oracle's CRM On Demand gives you the power to break down departmental silos and gain a 360-degree view of your customers.
Oracle CRM On Demand is a comprehensive, strategic CRM solution that goes far beyond any other software as a service offering to help you bring clarity to your sales processes; build loyal, long-term customer relationships; accelerate productivity; boost call center efficiency; and derive comprehensive, real-time customer intelligence.
---
Sales
Automate, simplify, and manage all the information your sales organization needs with one comprehensive set of tools.
Enjoy a true 360-degree view of your customer information
Gain control over all of your accounts
Build realistic forecasts
Get an accurate view into your pipeline
---
Service
Build and retain customer satisfaction by resolving issues efficiently, thanks to consistent access to up-to-date information from across your organization.
Close issues and solve problems in record time
Continually improve service effectiveness
Manage agent activity and resolve bottlenecks
Provide better customer service across all customer touch points with the prebuilt contact center
---
Marketing
Transform the way you market to your customers with an integrated solution that makes your marketing team work more efficiently, more effectively, and with greater accountability.
Create targeted and personalized campaigns that get results
Allocate funds effectively and create accurate forecasts
Improve lead management and tracking-never lose another lead
Keep your marketing team on message with future initiatives
---
Call Center
Make your agents more productive and your customers happier and more loyal with the only hosted multichannel support application that can be deployed in days, not months-without upfront capital expenditures or integration costs.
Give your customers personalized service, any way they want it
Route customers to the right agent the first time around
Increase call center productivity and performance
Integrate with Oracle, PeopleSoft, and Siebel business applications
---
Analytics
Make informed, intelligent decisions based on deep insight into your business, thanks to the only on-demand CRM solution with a prebuilt data warehouse that allows you to combine real-time intelligence with deep historical and comparative trend analyses.
Analyze key issues quickly and easily
Get real-time answers to ad hoc business questions
Identify key business trends
Make better decisions based on predictive analysis that can be easily shared and understood
---
Integration
Focus high-value resources on your business, not your IT infrastructure, thanks to the only CRM on demand solution that provides Web Services support as well as prebuilt integration to Oracle and other business applications.
Use the development environment you know, leveraging a comprehensive set of XML/SOAP APIs for accessing our solution and business logic
Create a seamless front- and back-office user experience with the Siebel CRM On Demand Integration Pack for Oracle E-Business Suite
Use our Web Services On Demand API to build programs for myriad integrations, Web-based portal applications, and custom add-on modules to extend Siebel CRM On Demand functionality
Use Custom Web Tabs and Web Links to leverage data and functionality from Siebel CRM On Demand in combination with third-party systems
---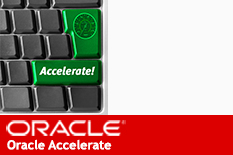 Oracle Accelerate brings complete, easy-to-own, industry-focused applications to small and medium businesses. Click Here to learn of Promero's Oracle Accelerate Solution for Siebel CRM On Demand Rapid Setup. Promero's solution includes rapid deployment, detailed project plan identifying precise action items and timeline, review of customer network configuration and recommendations, design and configuration for a Fixed Price and Scope for for 25-300 CRM users.
---
More customers around the world rely on Siebel CRM On Demand to drive their strategic CRM initiatives, unite global lines of business with a single customer view, and gain insights into customer trends for better business decision making. Read what these customers have to say about Oracle's Siebel CRM On Demand.
---
Complete Solution
Complete and comprehensive: Get everything you need for your sales, marketing, and service teams-and an optional, virtual call center.
Superior usability: Drive higher adoption among workgroups.
Industry-specific functionality: Get value sooner with solutions tailored to your industry.
Embedded contact center: Get agents up and running anywhere they have access to an internet connection and a phone.
Award-winning analytics: Take advantage of the hosted CRM industry's only embedded analytics offering.
Easy customization, integration, and expansion: Focus high-value resources on your business, not your IT infrastructure.
Prebuilt integration to Oracle back-office applications: Dramatically increase sales agent productivity while ensuring your customer data is consistent and accurate.
Low, predictable costs: Forecast IT costs effectively with pricing starting at only US$70 per user per month.
Global: Enhance global teamwork: Siebel CRM On Demand easily supports multiple languages and currencies.
Austin Data Center: Rest easy knowing your data is secure in Oracle's award-winning data
Oracle's Siebel CRM and Oracle® CRM On Demand Each Named A Leader in Record-Centric Customer Service Software By Independent Research Firm
---
Download PDF Documents